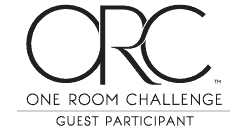 Eight weeks of preparation into one room! A great big thank you to the One Room Challenge and it's media partner Better Homes and Gardens for the allowing me and so many other guest designers to participate. What a great experience!
Before – Not Much Music Here
The large room off of our entrance was definitely a challenge! If any room in our house was the problem child, it would be our music room. With only one large window a cavernous ceiling and a long odd rectangular shape, it was a challenge for years. For a while there I gave up and put in a large sectional. It was off center of the fireplace because of it's narrow shape.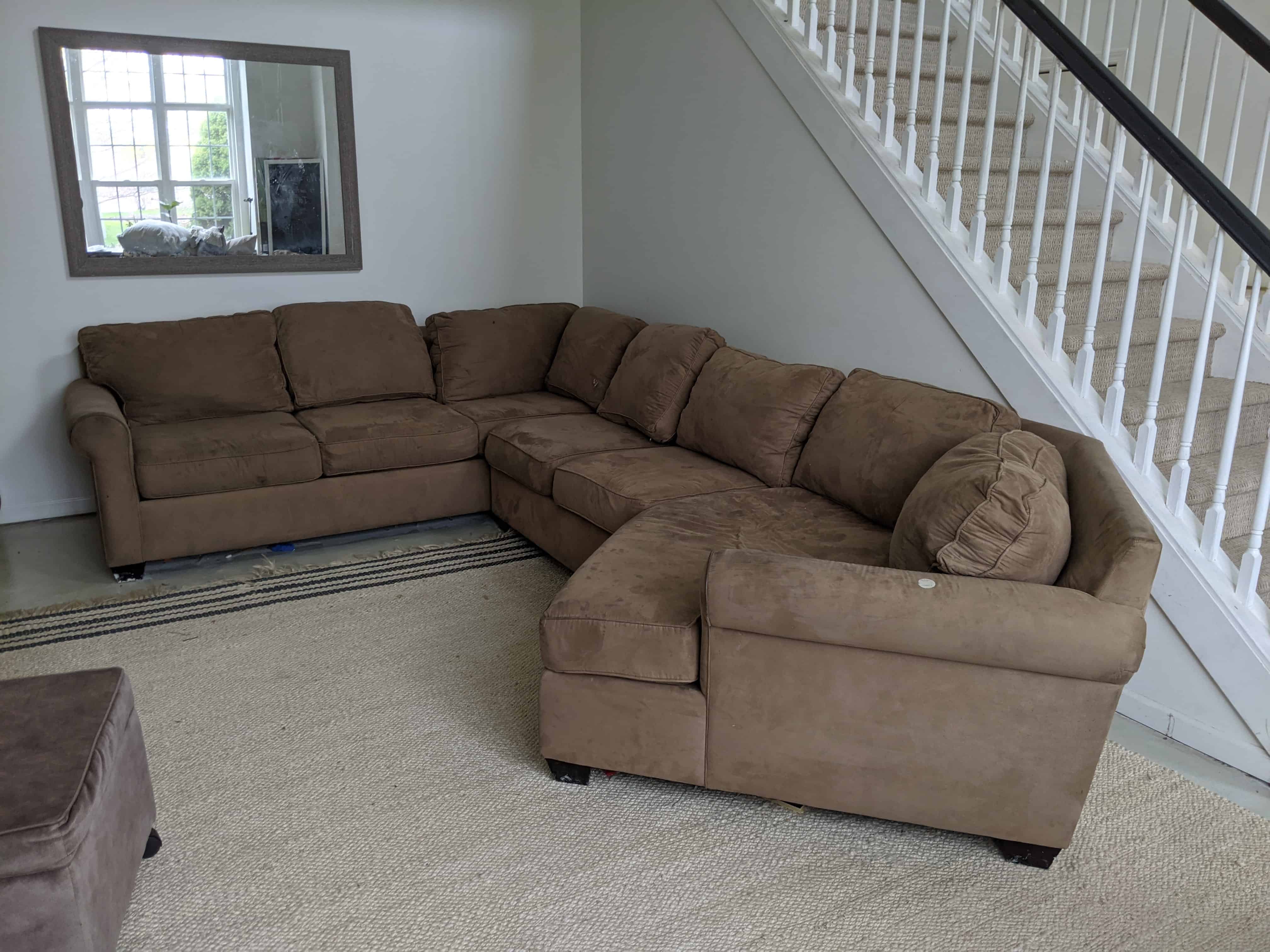 The whole family came together to get this one done! Our Before wasn't always such a sad tale. There was a time when it looked great, but a tv and giant sectional couch came to rule. Interior design confusion, creative neglect and frustration followed, along with incredible amounts of crackers and apple cores in the comfortable couch. I had tried to couple design and function in our music room, but design lost out. So did music the really only watched tv in here. This space is the first thing you see if you look left when you enter our home. We needed to do better. First thin out with the tv, then we gave the couch away. Next was flooring, which we put in ourselves. More on that in another post!
After – Our New Music Room
Those days are in the past. Introducing our new and improved music room! I can't tell you how many times the kids have said something about how happy they are with this room and how it's the best room in the house. I veered away from my normal warm neutrals in this room and incorporated gray and blue tones. Amazingly I was able to stay on a tight budget and spent less than $350 for the furniture and decor. I used many items we already owned to make this happen. The sofa was found at a Goodwill for $35. It was purchased for my daughter's dorm room, but when she came how this Summer it came home as well so I used it in this space. She doesn't need it next year so it gets to stay here.
Let's talk about the main piece I added to this room, the sofa. The sofa was the center piece of this room. Dark grey would not have been my first choice, but we all like it so much. It anchors the whole space and balances the the dark wood of the piano and dresser on the other side of the room. I went tone of tone with the throw pillows because it's not a large sofa and I didn't want to break it up with four pillows. The throw blanket covers a stain! We still hold out hope we can get it out. I told you about that debacle here.
What I still may add – Drapes, Coffee table, Standing Lamp
When I started this project drapes to frame this large window were a must have. As I started going through the process I wasn't so sure. Now that the room is together I've decided I have to at least try some pretty drapes. They have to be long and they have to be luxe, but affordable. Amazon here I come! I'll be sure to let you know what I find.
After searching online for a bit I decided to wait for the right round coffee table to show up. While I wait the coffee table from our family was put in here and it works perfectly. Might look for a new table in the family room instead.
We have a great standing lamp, but it's at the lamp hospital right now, aka my local repair shop. It's expected to make a full recovery soon.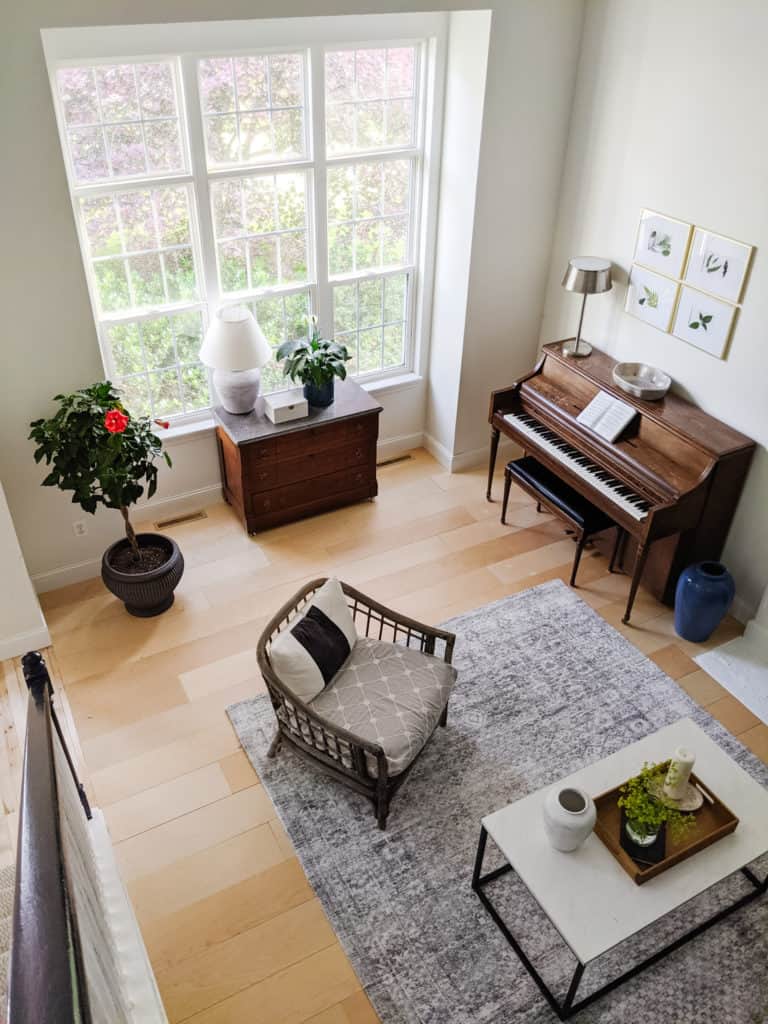 What a great eight weeks of work this turned out to be! Our creativity only grows if we use it, and I gave it all I had in this room. Thank you to Jeremy and all the kids for your hard work. We accomplished something as a family that we now get to enjoy.
Hopefully we'll be making some happy music in this room for years to come. I think we should form a seven member band. We've got a violin, three guitars, a ukulele, a piano and I can sing. Yep, we're hitting the road! After we practice in our new music room.
You'll come hear us play, right?!
xo Maria