Hey friends, it's been a good week of DIY. Mary and I are having so much fun working together and  making over her space for the One Room Challenge.
It's Week 6 of our journey to transform Mary's childhood bedroom into a Parisian boho inspired retreat.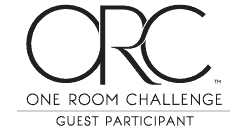 Yesterday I shared our amazing cabinet makeover, and as promised today I'm showing you how we styled it and the chair we found.
When you are decorating on a budget it's important to be flexible with your design ideas. Sometimes you can't find what you envisioned for a space at a price you can or are willing to accept.
Remember the desk we found in the trash and transformed? You can read more about that HERE.
It needed a chair, but not just any chair, I really wanted a specific looking French styled chair.
I was trying to figure how to make it fit the budget when I knew darn well it couldn't, and then guess what happened?
I found a beautiful French Regency styled chair!
It's in perfect shape and I can thank my favorite thrift store for it. Only $20 friends!
It pairs perfectly with the more modern writing desk and it's even on wheels which Mary loves.
One more plus. We didn't have to touch it, or do a thing to it, the neutral tones are just what the room needed.
Only two more weeks for the finale reveal of this bedroom. I'm ready to be done, but have learned a lot about working with someone on their space.
If you have any questions about how to start making over a room in your home, ask away, I'm happy to answer them. Just leave them in the comments below.
Have a wonderful weekend friend!

See more of our journey to transform Mary's childhood bedroom into a Parisian Boho retreat.
Week 1 – Week 2 – Week 3 – Week 4 – Week 5

Save It & Pin It