Want to give your bathroom floor a refresh with a quick fix? Let me show you how to paint a tile floor to mimic stone.
Inspiration for Painting a Tile Floor
It's hard to see the before of the kid's bathroom as the inspiration for painting a tile floor to mimic stone. I guess the real inspiration are the children who use this bath. 
For years I've wanted to do something about their bathroom. At one point I even started putting money away for a full remodel, but then life happened and the kid's wanted to go on vacation with that money instead. They were right. 
It became apparent to me I could give their bathroom a makeover with spending too much money, and I became determined to find a way.
The dream of painting a tile floor to mimic stone was born! 
Supplies for Painting a Tile Floor
I didn't think to lay everything I used out and as I type this it's all put away. This is itself is a big deal because my least favorite thing to do is put all the tools and supplies I used away.  No scratch that, my least favorite thing to do is hunting down and getting OUT all the supplies needed.
Anyway! Back to the list. 
Here is what you'll need. 
Kiltz
2 main colors of paint
3 or 4 secondary colors of paint. I used maybe a quarter cup of each of my secondary colors.
Paint glaze. This extends and thins out your paint to add to the feeling of depths when the paint is layered.
Floor Sealant
Rag
Sponge
Paper towels
Empty mixing container
Painters tape
Paint roller and pan
A brush to cut in the edges with.
Decorative brushes. Any kind will do just make sure you have a stiff brush and a feathery brush.
Steps to Painting a Tile Floor
Clean you tile floor.
Start by cleaning your floor with a detergent. Then after it has dried vacuum like there's no tomorrow. You'll actually be vacuuming before every coat of paint so get ready. 
I love to vacuum though. That ambient noise puts me in a good place.
Tape Off Your Molding
I got so excited about the project I forgot to do this with the first layer of paint. It makes life easier though and is worth taking the time.
Lay your primer down. 
This is an essential step. I used Kilz and it worked very well.
Apply the Base Color
Your base color should cover all of your primer. This is the color that you will layer the secondary colors over.
Apply Contrasting Paint Color with Paint Stick
This part is fun! Practice on a brown paper bag first so you have your technique down, but don't over think it. You want to make a design and bring movement to your floor. Check out my youtube to see how I did it.
Feather the Contrasting Paint Color into the Floor
The key to this is to clean your light weight brush several times as your feathering it in. Paper towels helped a lot during this step.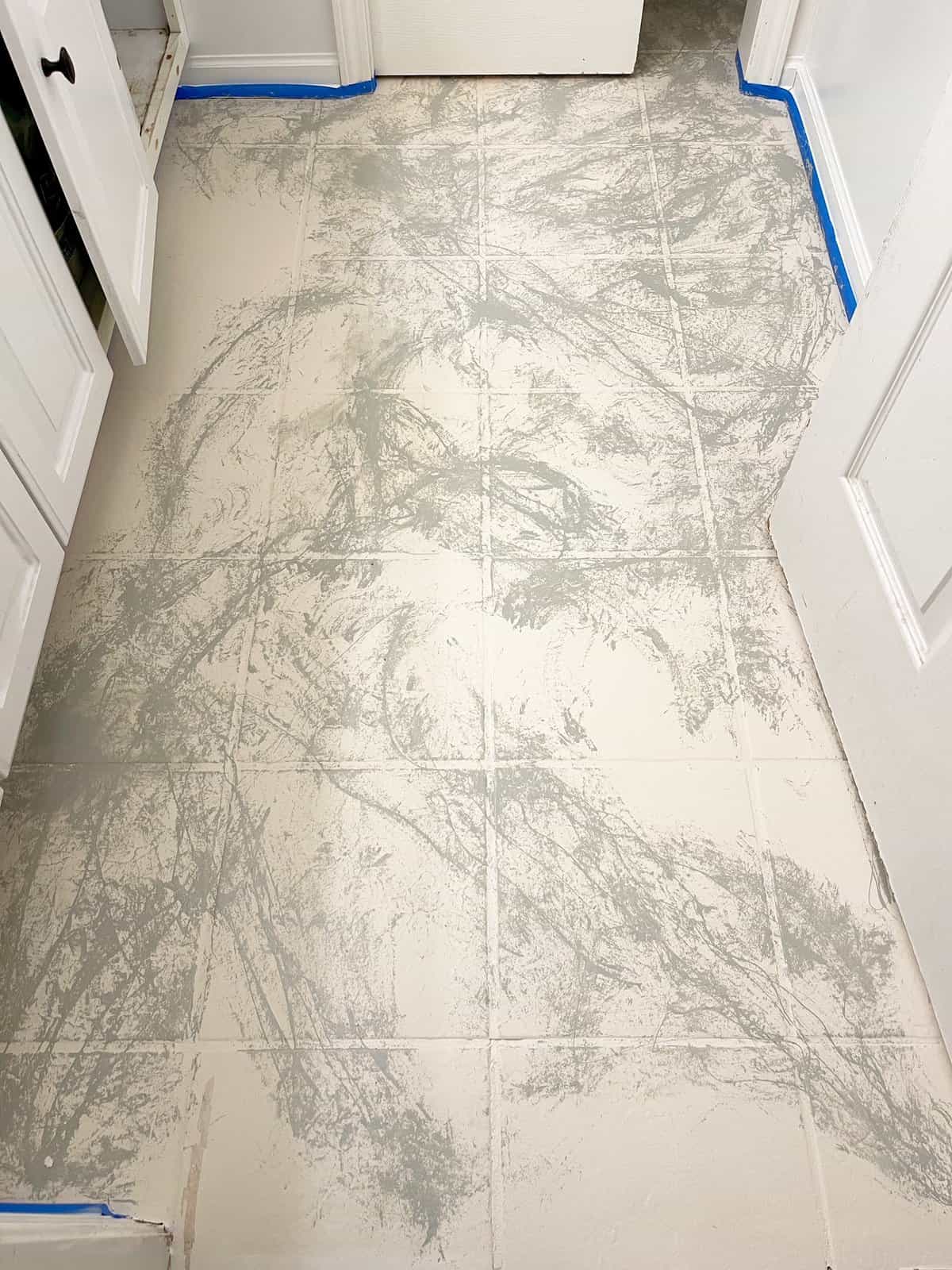 Layer on Paint with All Your Paint Tools
Now it's time to add your secondary colors.
You don't need much. I used left over paint for this whole project except for a tube of paint I bought at the Dollar Tree. 
With each color of paint use a different paint applicator. I used a rag, a stipple, a sponge. whatever you can find!
Give the look of stone by flicking paint from a small paint brush onto the floor.
Let the smallest dots dry and dab the others into the floor with a stiff brush.
Finish Painting Your Tile Floor with a Sealant
Use a foam roller to finish.
I used a foam roller to roll on the sealant which gives it a nice smooth finish, then I let it dry and went back to cut in the edges. 
Ideally let your floor dry for 24 hours so it's not tacky at all.
Now we've gotten to the most satisfying part of the project for me. Removing the tape.
Drum roll please!
I love it! What do you think?
Such an improvement, and no money was spent on this project. I used left over everything.
Here's one last look at the tile before it was painted.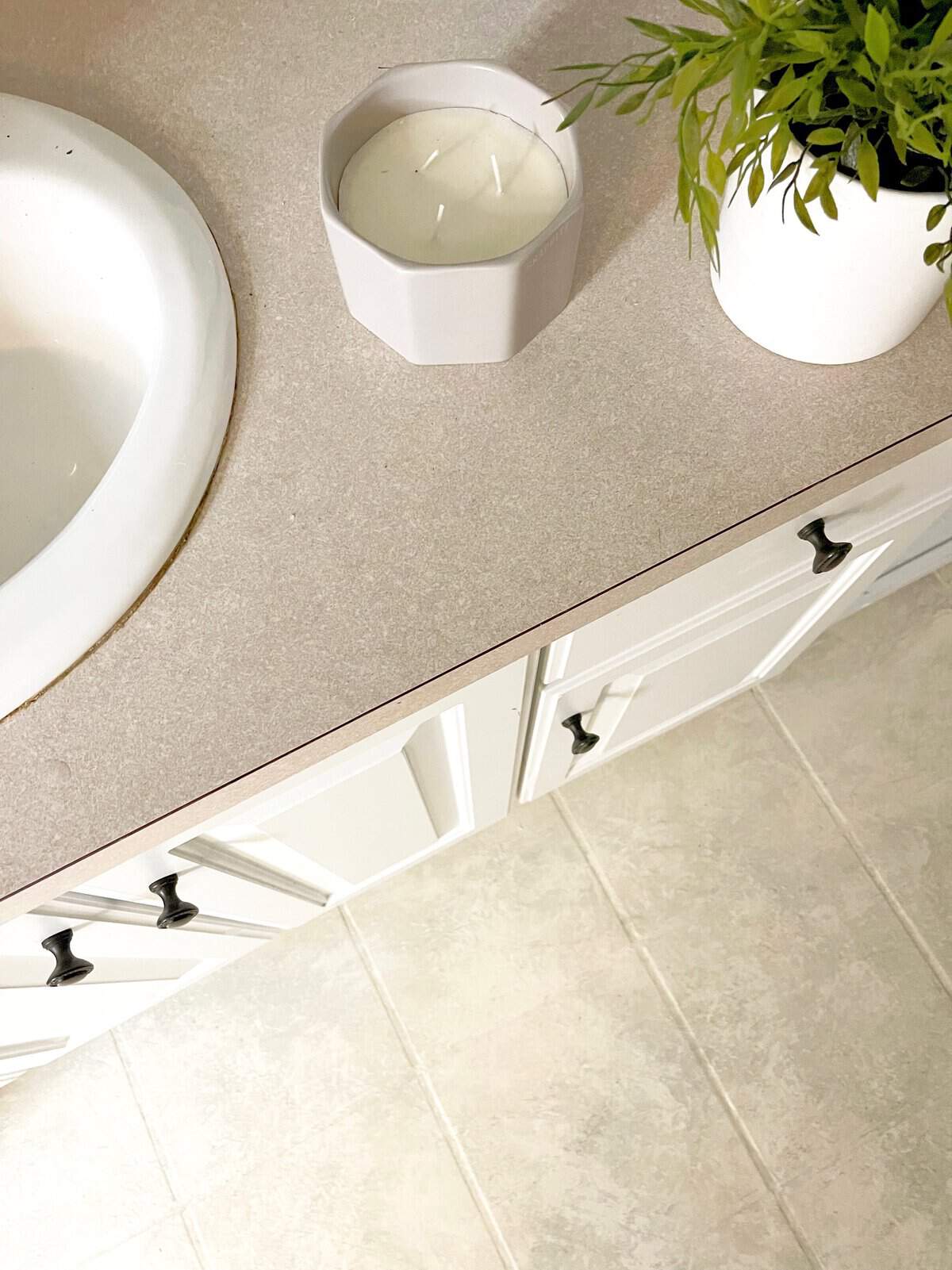 Painting this tile floor to mimic stone took longer than I had thought, but most DIY projects usually do. Even though it was a lengthy process it wasn't hard. I hope this gives you the inspiration to paint your tile floor if you have dreams of improving your space. 
Home improvements do not have to be costly. Paint is the perfect medium to make over any room.
Go for it!

MORE KID'S BATHROOM PROJECTS
**Some of the links in this post are affiliate links. If you click on the link and purchase the item, we will receive an affiliate commission at no extra cost to you.

Pin It & Save It