It's Week 7 of the One Room Challenge. Is this what it feels like to run a marathon and reach the last mile? I think we can make it!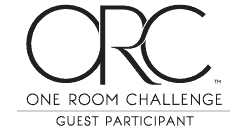 We had big furniture decisions to make and a small budget. This kind of budget is only doable if you're ok with used, or what I like to call pre-loved furniture. We definitely are ok with them.
If someone asked me the one thing they should do in a Bedroom refresh I'd say…
Buy Used Furniture and Save Thousands
When you buy used you're not only asking in responsible and sustainable ways for the planet, you're doing the same for yourself.
I'm not saying never buy new! I buy plenty of new items. I'm saying make buying used a part of your buying practices as well. Our splurge was on a new full-size mattress for Mary. It was time, she's a big girl now.
With most of our budget for the bedroom was invested in the mattress, I knew we had to really dig deep and look for the other pieces in her room on Facebook marketplace, thrift stores and estate sales.
Thankfully we found these mid-Century nightstands and an upholstered headboard secondhand. The nightstands were already white when we found them but needed a new coat. We chose the same color we used on the writing desk. We found baskets for added storage and a boho look to go under the night stands.
The upholstered headboard was not Mary's favorite, but we made it work because, well the budget demanded we make it work. Hard to say no to a brand new headboard when it almost exactly what you wanted. Mary does a lot of reading in bed and was looking forward to the comfort of an upholstered headboard. We almost made one, but instead used the time to flip this chandelier HERE.
These night stands came without drawer pulls. Instead of buying new ones we took some off of a vintage drawer of my moms and put them on Mary's. Another nod to my mom in her oldest grandchild's bedroom.
Both the headboard and the two end tables were bought months before we even knew we were giving Mary's room a makeover. I found the brand new headboard at thrift store a year ago for $20. I decided it was easy enough to store away in our basement for the day we would need it or a friend would want a full size headboard. Glad I did because it works perfectly in Mary's room with her new mattress.
The night stands I bought this Summer for $40 each. They're vintage and solid wood. The plan was for our youngest son to flip them so he'd have some spending money. He never got around to doing it, and instead we used them in Mary's room makeover
Very excited we've been able to keep this makeover at a price we can afford.
It's taken some mental gymnastics, but we've come up with a style and vibe in this room that really reflex the joy and youth of Mary. I love being in this space and I'm ready to style it and for you to see the finished product of weeks of work.
If you've missed any of the past One Room Challenge weeks you can catch up on them down below.
Can't wait to show you the final reveal next week Wednesday!

SEE THE PROGRESS ON OUR PARISIAN BOHO BEDROOM RETREAT
Week 1 – Week 2 – Week 3 – Week 4 – Week 5 – Week 6 

Pin It & Save It