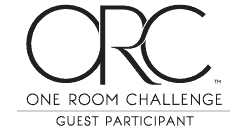 This week we've been diligently working on the music room and with great results. The plywood plank floors are in and they look incredible. It's a very cost efficient flooring option and aside from a few tricky cuts, straight forward in it's installation.
Let's Talk Fireplace Refresh!
Our fireplace surround had fallen on hard times. Cue sad music! About seven years ago the boys and I put in this tile surround, but it was no longer looking it's best due to kids and water damage. The last several days we've been giving it a facelift.
Back when our girls we're really little they became fascinated with peeling the small stone pieces off of our fireplace surround. They used them as props when they played with their Barbie dolls. They're brilliant, I know. Very imaginative those two. I wasn't able to find and return all the small brick shaped pieces to their original places so we've had several gaps in our surround ever since.
The fireplace also had a leak that we've since had repaired so a line of stones had rust stains that would not come out. Both of these issue were not pretty to look at and lead me to think we should replace the surround with new tile.
Sustainable Renovation Choices
After thinking about it for a bit I decided not to replace them, but instead to give our fireplace a refresh and support sustainable design. I like the small brick design and shape and if we tore out the stone it would feel too much like a waste of resources.
Also, my boys and I had put this surround in about 7 years ago, it's a sweet memory and made me want to save these tiles. We got to work filling in the gaps and cracks of the aging surround with grout.
Next step was to replace the missing brick tiles, but what to replace them with? Those tiles had been lost long ago and Lowe's no longer carried them.
I decided to have our oldest daughter make custom brinks to replace the originals. It's right in her wheel house since she's a natural artist.
She loved doing the molding and perfectly shaped the bricks to fit each gap. Even if you're not an artist forming bricks will bring out the kid in you. It's s a doable and fun project.
We used molding clay HERE then let it harden over night. After it was dry we used subfloor glue on the back and put it in place.
The cracks between the small tiles were filled with calk.
After we used the polymer clay I left it sitting on the kitchen table. Look what the little ones made with it!
Love it when kids feel free to create and dive into art making. They made so many fun things!
The leak that had caused the rust stains was stubborn. Scrubbing alone would not take it out of the stone so we covered it with Kilz stain blocking primer.
The exterior of the firebox needed attention as well. It probably had not received a new coat of paint since our house was built over twenty years ago.
Since we've lived here it has been scratched up a bit so I bought heat resistant paint and went over it with a couple of layers.
Make sure to use paint specifically for areas that het hot when painting your firebox. We used Rust-Oleum High Heat HERE. It went on smoothly and covered well. It is oil based so use a foam brush. We also used a whole lot of this Dap spackling HERE in between bricks..
The photos don't show what a huge difference this made to the overall look of the fireplace.
After all this work the fireplace is looking great. So glad we saved it instead of tearing it out. That renovation can be for another project or even another family many years from now.
Now I'm at the point where I need to decide if I should Ieave the fireplace neutral or lean into color for more contrast against the wall.
For now it's on to other things in this space. Can't believe I only have a couple for weeks to finish before One Room Challenge is done! Really excited to start next steps and get the floor molding installed. After that we can start bringing furniture into this space!

p.s To see prior posts on making over this room for the ORC go here. Week 1, Week 2, Week 3, Week 4, Week 5.
**Some of the links in this post are affiliate links. If you click on the link and purchase the item, we will receive an affiliate commission at no extra cost to you.