Are you decorating your home on a tight budget? Thrifted furniture flips are one of the best ways to get the look you want and save money.
On a quick trip to Salvation Army I found this broken down armoire sitting at the entrance for $7. Yes, you read that right, $7. Not sure how they got to that specific number but that's what they wanted for a solid wood tv armoire that had seen better days.
What I'm not showing you because I took them off right away, was the lime green hardware that came with this armoire. Maybe it was because of them that it sat unwanted with it's thick molding and deep shelving. Or maybe it was the broken door that took only a few minutes to fix. Whatever the reason it was priced so low, I'm glad I found it. It makes the perfect school room supply shelf.
After lightly sanding it by hand I applied a coat of Kilz latex primer. This is one of my go to paints when painting wood furniture and especially when transforming thrifted furniture. It always blocks out wood stains and dark colors easily.
Even with just a coat of the Kilz primer it was looking better already. Our schoolroom is not large so with the addition of this very large piece of furniture I knew we needed to make the color blend into the wall color of the room. Since moving in over a decade ago I've never painted this room. Can you say super busy homeschooling five kids? It's on my list to paint for 2022 and when we do it's be white, so the cabinet's color will work well with it.
I went with simple wood knobs for the hardware and spray painted them a creamy white. Reasons for using spray paint, one knobs get a lot of wear and tear from being touched so often and the oil based spray paint is tougher than latex paint. Two, knobs at our house need to be cleaned regularly, especially white knobs. Spray paint is more durable when it comes to being wiped down and cleaned.
My light, neutral palette called for this armoire to be painted white or cream. I used a left over creamy white paint after the primer.
Old tv armoires or entertainment centers are pretty easy to find at thrift stores theses days. If you can find a solid wood entertainment center or consider picking it up. Aside from the hassle getting it home they are versatile pieces to have in the home. No, you won't be putting your tv in it, but there are numberous ways to us an old armoire in your home.
Ours holds school supplies like books, folders, paper, notebooks, pens, pencils, markers, stapler, pencil sharpeners, dvds, math manipulatives, etc.
Here are a few more ideas for an old armoire in your home.
pantry (canned and dried goods)
linen closet (towels, sheets)
home office (printer, computer, records, mail)
cleaning supplies (broom, dust pan, spray bottles, rags)
 entry storage (shoes, coats, umbrellas)
command center (kids backpacks, lunch bags, schedules, mail, items that need to go out of the house)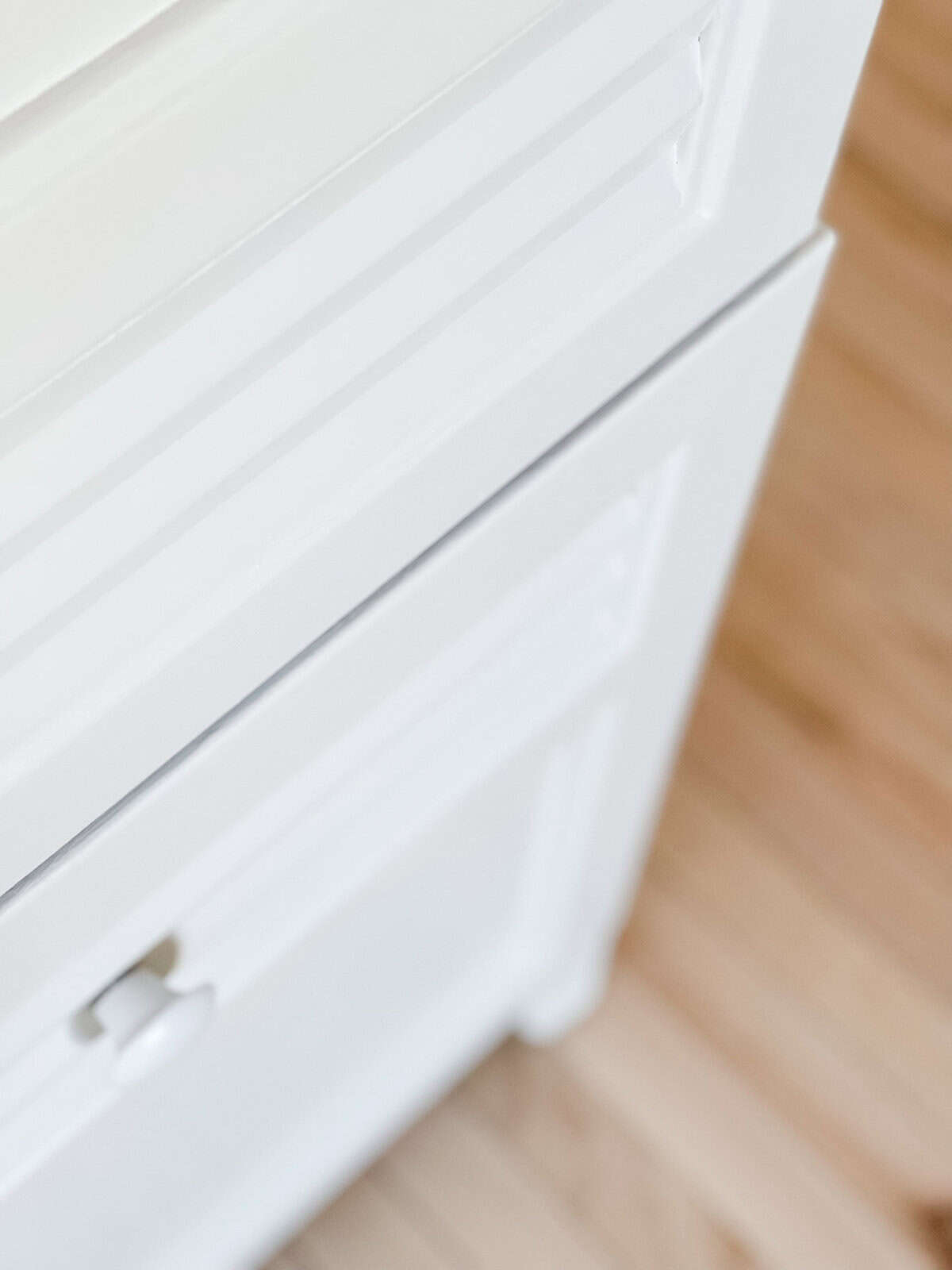 You can use these thrifted furniture finds for so many things. Old entertainment centers and armoires are one of my favorite furniture finds. They can be used for much need storage and some like this one are really good looking pieces of furniture.
It took me three hours to paint this armoire. This included sanding it, wiping it down and washing all my paint brushes when I was finished. I split the work up over three days because of the drying time needed in between. Also listened to a couple different Audible books as well as music to make the process more enjoyable. The time involved with painting a piece this large was worth it to me. It helps me stay organized while homeschooling and it hold a lot of books. We love books and many of them.
Try painting and repurposing an old wood piece. So much fun to see it come to life.
Is this something you've tried before? Have you ever painted thrifted furniture?