We took a family vacation right in the middle of the One Room Challenge https://www.oneroomchallenge.com/. I mean, why not? It was so good to get away and so good to come home. On the way back from the airport I called our local lumber yard to see if the plywood I had ordered was ready to pick up.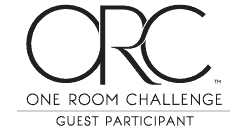 Not only was it ready, but they had cut it into 8″ planks for us and charged only $75 for labor! This saved us so much time not having to do it ourselves.
Thrilled we immediately went to pick up the plywood planks. Once I say them I knew the plan had to change. Jeremy and our youngest son loved the look of the birch wood. The wood planks hardly had any knots or flaws and were already sanded down.
We laid several of the planks out in our music room. It gave us a feel for what it would look like and we feel in love. Why did we wait so long to try this plywood flooring method out?
We decided the plywood planks were too good to cover with paint. Next to our natural maple floor they look incredible! I'll seal them with the same Bona Traffic HD that I sealed our maple floors with, which will give a nice satin sheen. The two natural woods give a consistency that I appreciate.
This one change effects the music room design a little, but not enough to throw things off. I'll be looking for a lighter color rug, and will probably opt for a stone or painted wood coffee table instead of a natural wood one. All the other choices I need to make will most likely stay the same.
Can't wait to sand down the edges of each plank (my two sons will head this up) and then install these floors this week! We have a lot to get done in the next four weeks, but I think we might make the 8 week goal. Let's go!
xo Maria