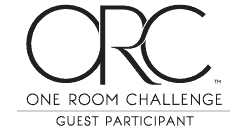 Now that we're on week 5 of the one room challenge it's time to as we like to say, "to put it in high gear"! Jeremy, the boys and I keep plugging away at things, but it's been slow. I feel we need the urgency a deadline brings so we push ourselves a little harder.
Right now we're simultaneously working on three projects in the music room. Each one is important to making this a beautiful space. Hopefully our kids will want to be in here more and practice their music.
Area Rug
One of our kiddos requested we get a soft rug (we had natural sisal in here before) so I've been looking. Rugs are pricy and I have a specific amount I'm willing to spend in this room. That's why I was super happy to hear about a thrift store near me that had several new Target rugs donated to them. While there we found this 7 x 10 Studio McGee rug!
This rug is stunning and so soft. The same Studio McGee rug at Target is priced at $300, but this one was $120, still in the plastic wrapping. Thankfully it wasn't damaged at all, just overstock Target needed to get rid of so they donated it to charity.
We also found another new Target 7 x 10 rug with rich browns and warm grays. I like that it has some rust in it as well. Both these rugs will go well in the music room over top our birch plywood floors. Still considering layering rugs in the room because it's a long area and I have the space for a larger rug under a 7″ x 10″.
Plywood Plank Flooring
The floors are halfway finished. It's taken longer that I had hoped, but they look great and we're getting there. Precision seems to be the key here. I'm not the best at measuring, but thankfully Jeremy is great at it. Flooring is the foundation of any space and time spent here is a good investment.
Once these plywood floors are in, the room makeover will really start coming together. In the meantime I'm trying to be patient and just work, work, work.
Fireplace Surround
Oh my goodness am I glad to have started this project. I wasn't sure if my uber frugal fix would actually work, but it seems to be! I'll be doing a separate blog post on how we renovated our fireplace surround. We filled in the cracks and holes from wear and tear (as well as kids) and it's coming together. Always such a good feeling when a plan takes shape. I'm priming it now and will decide on paint colors once I see how the rugs and floor look.
These three projects are integral to the look and feel of this space. All are happening on a small budget and still accomplishing our design goals. Home design doesn't have to break the bank to have a stylish impact. Creativity, hard work (otherwise known as DIY) and a little providence is going to make this room come alive.
And by the way, those rugs, such a crazy good find right?! Which one do you like best?
xo Maria