We're tackling one of our most ignored and neglected spaces, our Basement Family Room and Office.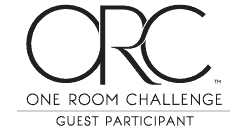 Project deadlines are a double edged sword. They can increase my productivity, but they also freak me out a little bit as well. Do you feel that way too?
Nevertheless it's the Spring One Room Challenge and I feel compelled to participate because I know it means I'll get something amazing accomplished.
The One Room Challenge is a bi-yearly event that lasts 8 weeks. Bloggers choose a room or space to make over and every week share updates on it's progress. It's incredibly inspiring to see how others are coming along on their projects and always kicks my butt into gear. Our whole family worked on it last year. You can see that project here. We plan on all working on it together this year as well.
For Spring 2022 One Room Challenge, drum role please,  we're tackling our…
Basement Family Room and Office
This is a big deal because our basement has been a scary place the last few years.
What is it with basements anyways? Ours is large and we're only doing a section of it because, well it's a lot of work. It just always seems to be a hot mess! Maybe it's because I'm not down there much and not there to tell the kids to pick up after themselves.
All that will change, I've told myself, once we make it a beautiful haven for our family to watch movies together and relax. The office area which is right next to the family room will be a space to get some quiet as well as get organized.
Here are the Before pictures.
Keep in mind I cleaned up prior to taking photos. It was so bad.
We started out by removing all we could from the areas where we'll be working for the next two months.
Then we began to tear out the floor molding. This job went much faster than I expected. I found that a puddy knife and a mallet worked best. After we loosened the molding we simply pried it off with our hands. Wear gloves and keep those hands safe and pretty.
We're off to a good start!
Lots to be done but We'll get there. Anytime you have a project I find it helps to make a mood board of your vision. It acts as a guiding light to get you through the dark or unknown aspects of any projects.
I made this mood board of our Basement Family Room and Office with the hopes it would motivate me to not give up. This year the kids aren't too keen on doing a Spring project. We've been busy with homeschooling and Duncan is a Senior with lots going on. The middle two are competitive divers and we have several out of State competitions coming up as well. BUT, we need to a spot more than ever where we can all be together and comfortable and just hang out.
Here's a basic list of the things we will do in this space to get to the happy place in my head and on the mood board.
Basement Family Room and Office – To Do List:
Remove Mirrors from wall
Paneling Walls and Ceiling with Planks
Paint Walls and Ceiling
New Floor Molding
Install French Doors between Family room and Office
Paint Sliding Glass Door Black
Add Curtain Rod and Curtains
Add Wall Light Fixtures
Slipcover Sectional
New Rug
Mount TV to wall
DIY Plant
Repair and refinish Office Desk
Thrift coffee table
Build console
There that's all, no problem right? HaHa!
But seriously, reach for the moon and you might get to the stars, or something like that. Regardless of our checking everything off this ambitious list, good things are going to happen.
What project are you most interested in seeing come to life?
Let me know in the comments!