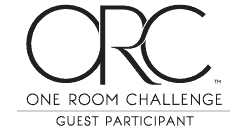 After several weeks of working on our music room it feels incredible to be at this point. The One Room Challenge and its media partner Better Homes and Gardens have really touched on how much effort it takes to give a room a makeover.
This week our music room has come leaps and bounds. It's taken planning and patience. It's so fun when the whole space starts to really take shape. Today was that day.
Here are the 4 major things that we finished in the music room.
Mirror Over the Fireplace
I finally decided on a mirror instead of art to reflect a little more light in this large room. Found this mirror at Lowes for a great price of $50. I like it's rustic wood vibe. We had to decide on vertical or horizontal so Jeremy and I consulted Instagram with a survey. Vertical won by a slim margin! With the high vaulted ceiling in this room going vertical seemed like a good idea.
Three Guitars On the Wall
I was determined to get our guitars on the wall! Why? Because I'm hoping having them in sight instead of packed away in their cases will encourage the kids to play more. Heck, maybe even I'll learn. That theory hasn't worked with our piano, which obviously can't get packed away, but I still hold out hope.
We used these guitar holders which function really well. Ours are from Amazon, but you can find very similar ones at Target. Had to enlist some extra hands to hold them up against the wall and figure out where they should go. Guitars are so beautiful they make perfect wall decor and art.
Sofa and Rug In Place
Lastly we installed the sofa and rug! Very excited about both pieces, but let me first share a whoopsie. The sofa, which we found at a Thrift shop has already had an accident. It collided with an orange citrus smoothie and I need to take it into the dry cleaners. It was baaaad, but let's move on.
The shape of this sofa, especially the arms has me swooning. Friends, it was a crazy deal and in great shape. I got it for $35! The Thrift shop was running out of space so they slashed the price right before I walked up to it. At another second hand store I frequent I found this brand new rug. It's from the Studio McGee line at Target and retails for $300, I paid $120. Overstock from Target is donated to this community Thrift store. It pairs perfectly with the color of the sofa and is super soft. Score! Both these pieces were found weeks ago so I've been patiently waiting to install them.
The Music Room is Coming Together
I'm really happy as to how things are looking.
…. and we've done it on a tight BUDGET!
We have a long way to go but the journey has been so satisfying. I still have it in my head that I'm gong to complete a big paint project. I first saw it done well over a decade ago. Didn't have the time for it them, but I'll never have time for it. You may see this paint project here soon.
One more week and this room will be finished.
I'll have to will it into existence. The decisions have "mostly" been made. Often thinking about those decisions bring the most stress. Deadlines bring a fair amount of stress as well, but I'm glad to have one on such a big project.
Follow me on Instagram and in Stories for more details! It's fun to share up to the minute progress, and challenges, like the sofa spill. It should be a full week!
xo Maria