Can't believe we've been working on Mary's Parisian Boho Bedroom Retreat for just over a month, but we have!
It's week 5 of the One Room Challenge and we're getting there.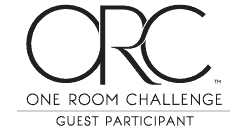 We've been busy at work designing and scheming and DIYing our way to a beautiful room for my sweet firstborn.
So glad to do this with her for several reason. One she's just a delight to work with and two, she's getting an appreciation for all the hard work that goes into making over a space.
Having done several budget friendly room makeovers it feels good to have someone see just how much hard work and creativity it takes do do it well.
Decorating a Plain Window with Plants & Curtains
The windows in this bedroom are builder grade with no character. I wanted to draw attention away from this, but how? I knew curtains could help as could a beautiful plant stand filled with plants. That's a boho touch Mary really liked.
Window Treatment
One of the ways I saved money on this room makeover was by making DIY curtain rod and finials. You can read all the details on how we did it and how we saved big time HERE.
Window treatments are expensive and I really wanted to splurge on a few other items in the bedroom. Instead of buying a curtain rod and finials we did what DIYers do.
We made our own!
I did the same thing when I gave my daughter Elsa's room a makeover. I love how her DIY curtain rod turned out. You can see it HERE.
Back to this DIY window treatment. I love it. Look at the finials!
Like I mentioned before, the windows in Mary's room are plain with no molding surrounding them. We hid that fact by hanging curtains on either side.
We found these curtains HERE for an incredible price and I'm really happy with them. They do snag easily so make sure they're hung in a low traffic area. To get a little more length on them we let the hem out and they still hang beautifully.
Plant Stand and Plants Collection
Mary has always loved and appreciated flora and fauna. When she was a little girl she would play in the garden with her Poly Pockets, remember them? When I say in the garden I mean inside of it and under the cosmos and zinnias. Or right at the base of a big oak tree.
We wanted to incorporate elements from nature in her room where ever we could, and a plant stand over flowing with plants was perfect here.
I bought this bookshelf in black and painted it white years ago. The lattice design allows light to filter into the room, but still hides the plain (aka boring) builder grade windows. It's one of those pieces that grows with your child as they do. So happy to use it here and for this purpose.
To add to the nature them Mary tucked a couple of vintage bird prints in with the plants and succulents.
Let's talk about planters. Pots and Planters are so important when designing a plant collection. We used terra cotta to reflect the terra cotta walls of her bedroom, as well a beautiful vintage swan planter to keep with the nature and bird them.
The main players in this planter line up though are these amazing hyper tufa shell planters. My Mom is an artisan and makes these planters in all kinds of sizes.
This One room Challenge is coming along well. We have several other exciting DIY projects in store for this room.
Excited to show you all of them soon.
Be well and enjoy these lovely Fall days!

SEE MORE OF THE PARISIAN BOHO BEDROOM RETREAT MAKEVER
Week 1 – Week 2 – Week 3 – Week 4 

Pin It & Save It

**Some of the links in this post are affiliate links. This means if you click on the link and purchase the item, we will receive an affiliate commission at no extra cost to you.